(After a popular list last year [Link] and earlier in 2012 [Link] and 2011 [Link]…)
…here are the 20 very best books I've read in 2014:
.
20: HEIDE KOEHNE, "Der Buchladen", German novel, 2011.

19: BRIAN WOOD, "The Massive", Books 1 to 5, Graphic Novels, 2013 and 2014.

18: TIM WISE, "White like me. Reflections on Race from a Privileged Son", Nonfiction / Memoir, 2004.

17: HARUKI MURAKAMI, "Von Männern, die keine Frauen haben", Japanese Short Stories, 2014. (I liked his most recent novel, too.)

16: STEWART O'NAN, "Der Zirkusbrand", Nonfiction, 2000.

15: CHRISTIANE FROHMANN, "Tausend Tode Schreiben", German anthology, 2014: 135+ personal texts about dying and loss […more here].

14: GREG RUCKA, "Lazarus", Books 1 and 2. Graphic Novels, 2014.

13: ED BRUBAKER, "Velvet", Book 1. Graphic Novel, 2014.

12: MARTIN HATZIUS, "Alles fragen, nichts fürchten", book-length interview with my favorite German living writer, Dietmar Dath, 2011.

11: SIGRID NUNEZ, "A Feather on the Breath of God", Memoir, 1995.

10: ARTHUR MILLER, "Focus", Novel, 1945.

09: MEIKE WINNEMUTH, "Das große Los", German Travelogue, 2012.

08: JAN BAUER, "Der salzige Fluss". German Graphic Novel Travelogue, 2014.

07: NORA WICKE, "Vierstromland", German novel, 2014.

06: G. WILLOW WILSON, "Ms. Marvel", Book 1. Graphic Novel, 2014.

05: TSUGUMI OHBA, "Bakuman", Books 2 to 20. Manga series, 2009 to 2012.

04: ROBERTO AGUIRRE-SACASA, "Afterlife with Archie", Book 1. Graphic Novel, 2014.

03: VALERIAN TORNIUS, "Zwischen Hell und Dunkel", German novel, 1932.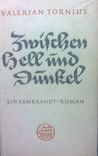 02: LIANE DIRKS, "Vier Arten meinen Vater zu beerdingen", German novel, 2002.

01: ÁGOTA KRISTÓF, "The Notebook", "The Proof", "The Third Lie", Hungarian Trilogy, 1986 to 1991.

.
For a complete list of books I've read in 2014, please go here [Link].
.
In comics, I've also enjoyed book 3 and 4 of Brian K. Vaughan's "Saga" space opera [Link], Year 1 and (to a lesser degree) Year 2 of Tim Taylor's "Injustice: Gods among us" [Link], Bryan Q. Miller's still solid "Smallville" [Link], the Marvel books "She-Hulk" [Charles Soule, Link] and "Hawkeye" [Matt Fraction, Link].
I enjoyed the first six "New 52" DC comic books featuring Wonder Woman [Link] and started reading lesser-known series like "Promethea" [Link], "Nailbiter" [Link], "Rat Queens" [Link], "Mind MGMT" [Link] and "The Private Eye" [Link]. I've also enjoyed Daniel Clowes' "David Boring" [Link].
Mark Millar's "Jupiter's Legacy" had a great start – but I will have to wait until 2015. [Link]
Here's a big collage of the graphic novels I've discovered in 2014:

Have a great 2015! More to come!
.
Related Posts:
and:
and, earlier: